Brickton
Location
Home
Type
District
Population
Rulers
Lord Roamin

The Elders

Law Enforcement
N/A
Military
Institiutions
Town Hall
Places of Note
Date of Founding
Founder
 The Brickton District, unique for its clay bricks, serves under Lord Roamin in the city of Dong Dank.
Notable Locations Within The District
Town Hall
Here you will find the main chamber where district meetings take place. There is an smaller table upstairs with chests for placing gold and relics of the district. Downstairs has a recreational area and Paladin Sanctuary. Designed and built by TheMissingno with help from Alklaine and Block_Parser, Est. 6 August, 2014.
Brickton Fire Department
The Brickton Fire Department is where you will find our first responders at work. The Chief is CRReasor.
Coordinates: (-578/70/568)
Ghostbusters Station
The Ghostbusters station is a building made by Lord Roamin's squire Faiden6. Lord Roamin gave him the task of making a building inside an enclosed plot, with the purpose of dealing with any out of control ghosts.
Coordinantes: (-310/70/305)
Building in Brickton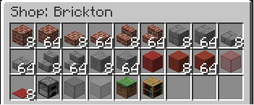 After the Great Oak War, due to negotiations by Roamin with the Grove, Brickton had oak wood and bookshelves added to their block palette, however, this was taken away recently due to the wood starting fires across the entire district. Bookshelves were kept in the palette.
Government
The Brickton Elders are composed of 7 peasants from the Brickton District.
Elder elections are held every five weeks.
New resolutions require four affirmative Elder votes followed by a successful town plebiscite (yes/no vote) to pass.
Elders can be cast out by resolution, however this requires a unanimous Elder vote.
Emeraldton
In the past, the bricks of Brickton were changed to emerald blocks for a while and the district was aptly renamed "Emeraldton".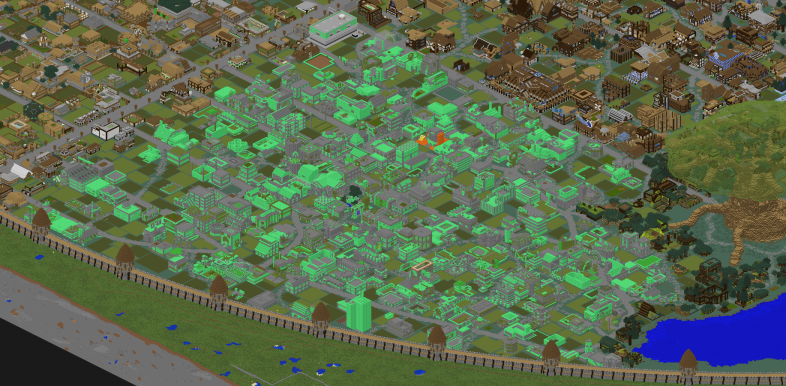 Laws
Brickton is loyal first to Lord Roamin.
Brickton will follow all laws of the Lords.
District Events

Annually
Brickton hosts Roamintine's Day the second week of February.
Weekly
Brickton District Meetings takes place Fridays at 7PM EST.
Quotes
See Also