---
This page is about a card.
Cards can be bought from the card shop found by going through the Card Shop warp pipe.

To read more about Cards click here: Deadbones Cardshop
General Information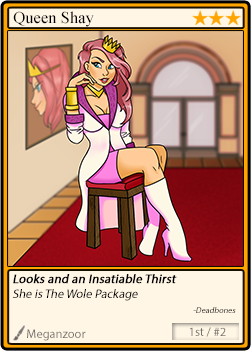 This card depicts Queen Shay, Queen Shay is the wife of King Poose, to learn more about the Queen click here.
Released: 19th May 2015
Tagline: "She is the whole package" - Deadbones
Rarity: Epic (3 Stars)
Number: 2
Card Set: 1
Artist: Meganzoor
Costume Maker: Unknown
ss
ss
ss
ss
Ad blocker interference detected!
Wikia is a free-to-use site that makes money from advertising. We have a modified experience for viewers using ad blockers

Wikia is not accessible if you've made further modifications. Remove the custom ad blocker rule(s) and the page will load as expected.